Harvest Service
On Friday 5th October, we gathered in church to celebrate Harvest. All classes put on a fantastic performance to encourage us all to think about those less fortunate than ourselves. A big thank you for all the food donations that we have collected for Todmorden Food Bank.
No Pens Day
On Wednesday 4th October, the children put down their pens for the day and took part in a range of exciting activities. Some of the activities around school included:
Speaking and listening
Food Tasting
Performances using puppets
Silk painting
Creating rhythms using instruments
Art using different mediums
Macmillan Coffee Morning
On Friday 28th September, we raised over £300 for Macmillan. Thank you for all of your support.
Our New Playground Buddies
Each week two different children from each class are given the important responsibility to be a Playground Buddy. If any child has a problem, is upset, has been hurt, is lonely or just wants someone to play with they can check in with one of our Buddies who can help, play with or support them in the playground.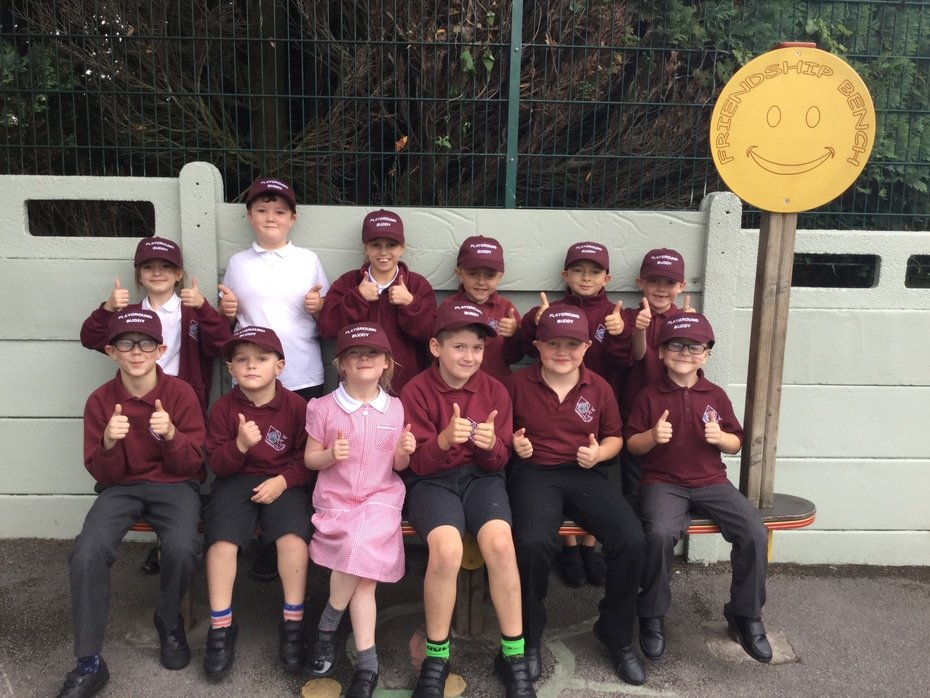 Team National
A staff team completed the 5K Pretty Muddy for Cancer Research on the first day of the holidays! They raised over £355!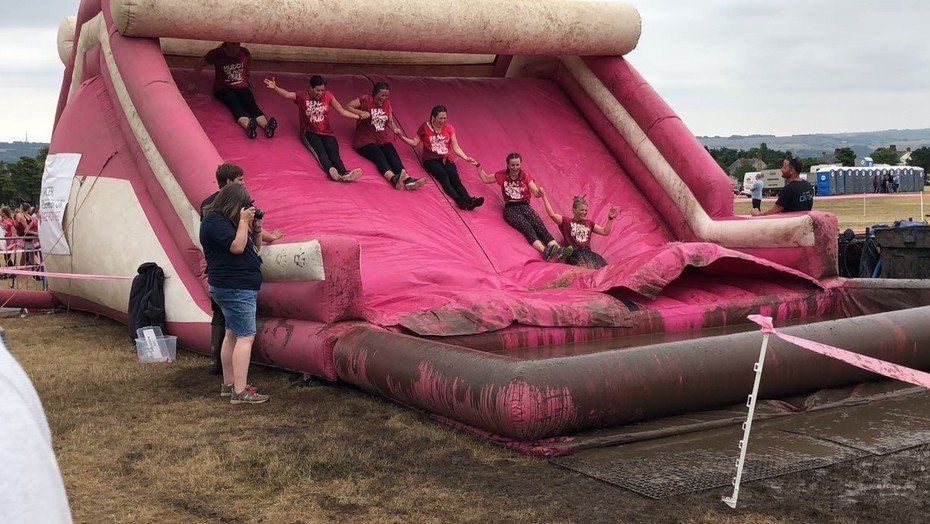 An ice cream van visits...
Last day treat from Mrs Leadbitter after a sucessful and fantastic year!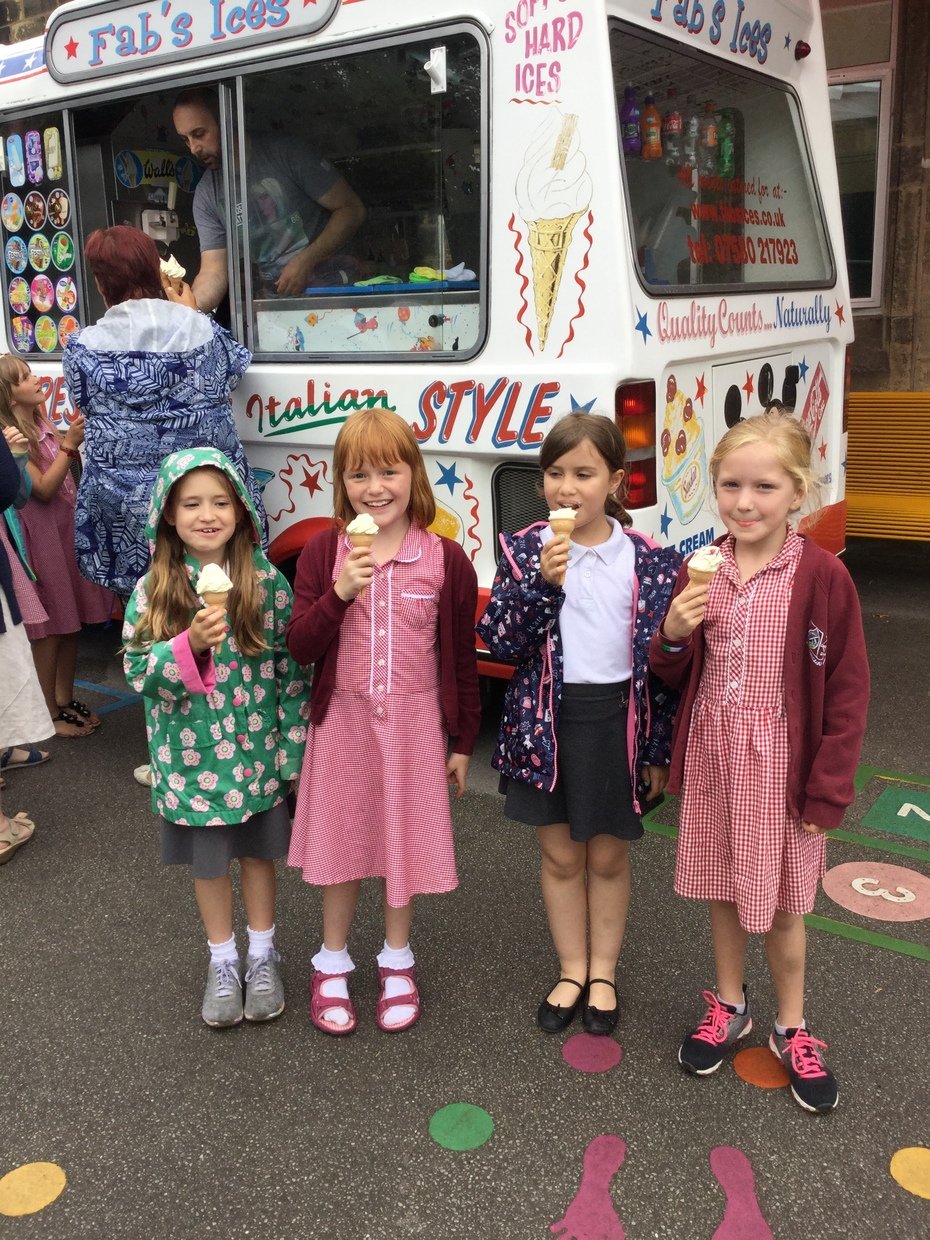 Year 6 Leave... We wish them all the best as they move on to high school.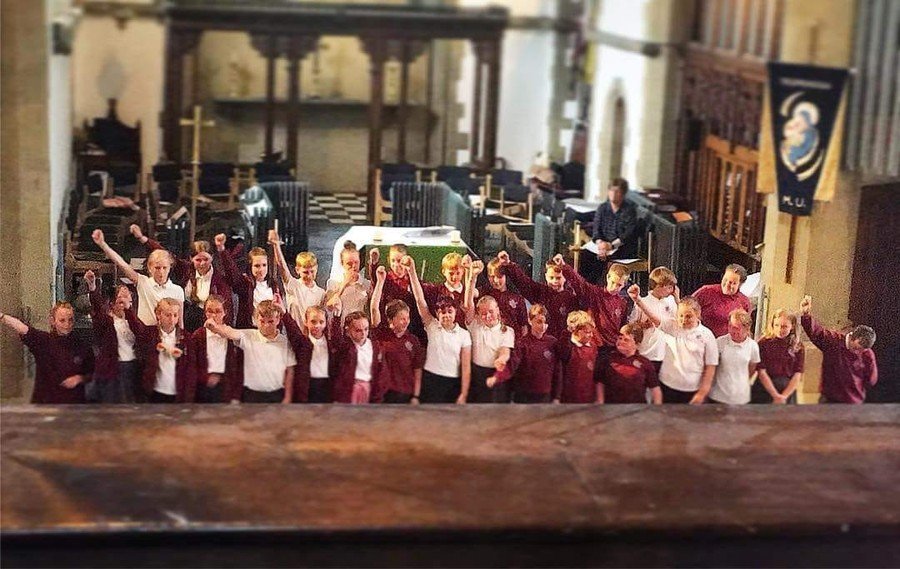 MR DAZZLE
Some very special visitors came to school - Mr Dazzle and his white rabbit. The children (and staff) loved every minute of the magic show!
FRUITY FRIDAY
Four girls from Year 3 held a fruit stall at playtime.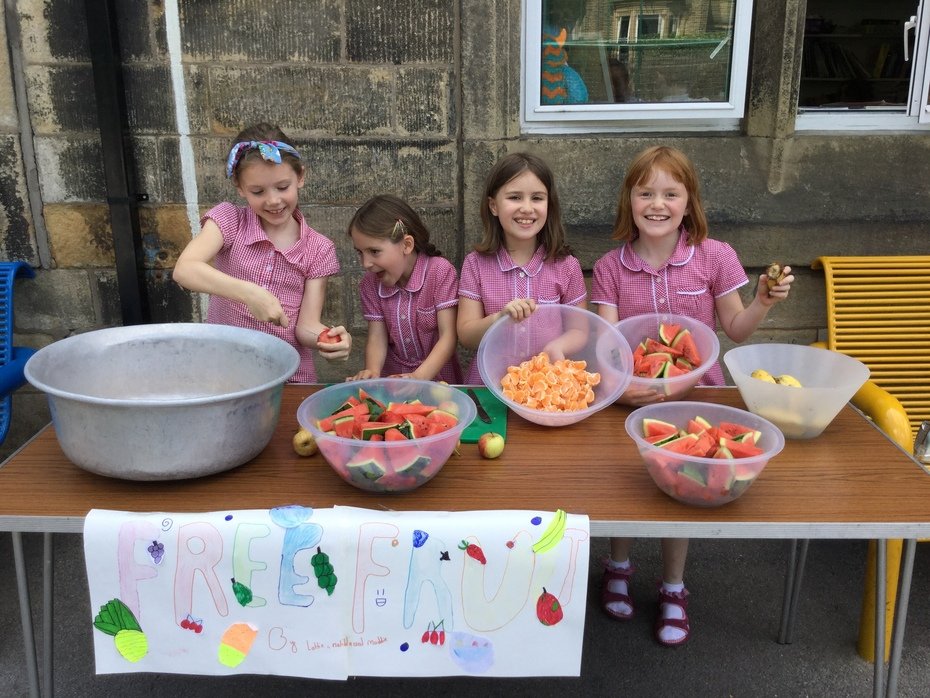 Todmorden Carnival 2018
We won! Thank you to all the children, staff and parents who joined us, we looked fantastic.
A special thank you to our marching band and Mr Culross who provided a wonderful theme tune!
Lent Charity Events
We have now completed all our Lent charity events and they have been amazing with lots of money raised for some great charities. A HUGE THANK YOU to everyone who has supported us! In total we have raised over £2,000. WOW!
Bunnies' Lent Collection - Bunnies took part in a Sponsored Brick Tower build on the week beginning Monday 12th March for The Yorkshire Children's Trust and have raised an amazing £400!
Owls' Lent Collection - Owls have been on a Save the Children Muddy Puddle Walk around the local area and raised a wonderful £77. A huge thank you to all the parent helpers who got involved.
Reception's Lent Collection - Reception took part in a sponsored blind activity. Whilst wearing blindfolds they completed an obstacle course. Reception collected a fabulous £299.70 for guide dogs for the blind. This is enough for 3 guide dog puppies to be trained.
Class 1's Lent Collection - Class 1 held a book sale to raise money for Project Polar Bear (with Yorkshire Wildlife Park) on Wednesday 14th March. They raised £178.70! Well done Class 1!
Class 2's Lent Collection - Class 2 decided to hold a cake sale to raise money for a child who lives in Ghana. Baby John, who Class 2 have heard lots about this year, lives in hospital and is an orphan. Mrs Dixon sponsors Baby John after her visit to a school in Ghana last year. They raised £130!
Class 3's Lent Collection - Class 3 have walked the equivalent miles to take them from Land's End to John O'Groats. This has taken some weeks! The miles were tallied on a daily basis and the class have tracked their progress on a map. They have raised £323 pounds, enough to sponsor 4 tigers!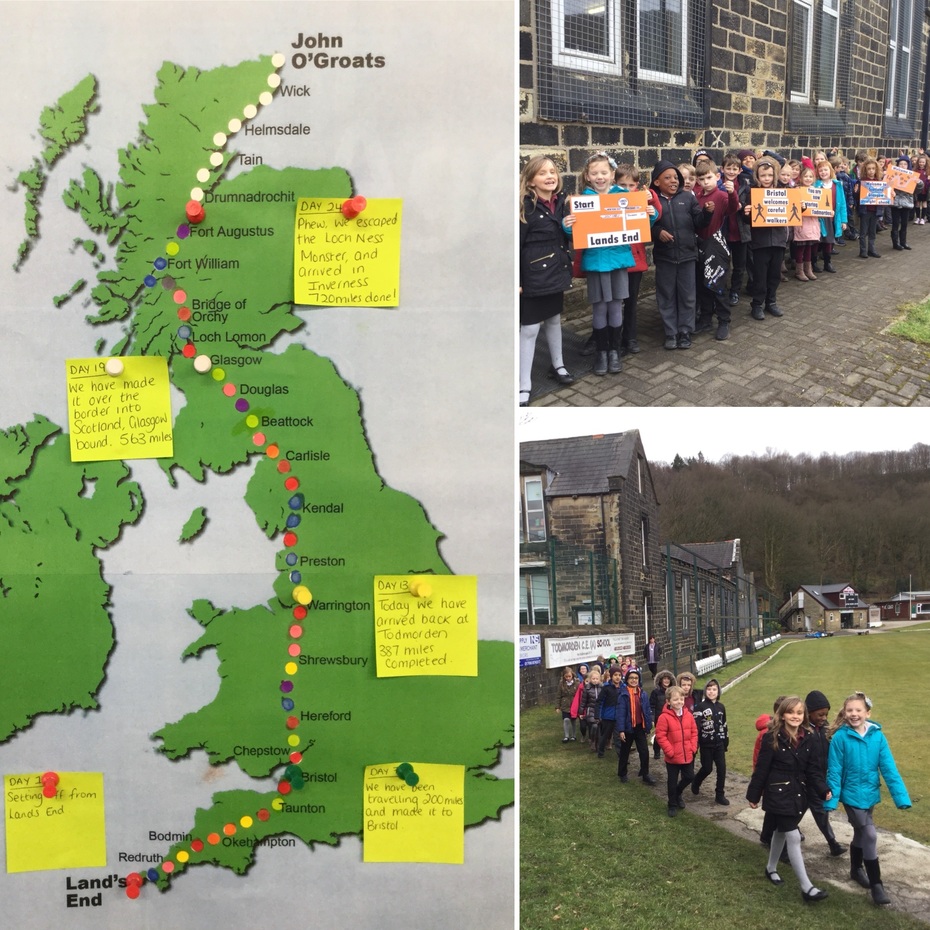 Class 4's Lent Collection - Class 4 took part in a sponsored Den Build, a project that is linked to their India topic. They raised an amazing £545 for Save the Children, this is enough to build two family homes in India. Well done Year 4!
Class 5's Lent Collection - Class 5 asked parents and children in the yard to guess how many sweets are in the jar on Friday 16th March. The £141.05 raised will go to Noah's Arc who offer support to bereaved children, a charity close to their hearts.
Class 6's Lent Collection - Class 6 have washed the staff's cars and the school mini buses on Wednesday 28th March and charged them lots! They raised £280 for Muscular Dystrophy UK.
What does our school do when it snows? Enjoy it!
World Book Day - Thursday 1st March
We had a fantastic day celebrating World Book Day. Every one looked fabulous and enjoyed world book day activities in the classroom.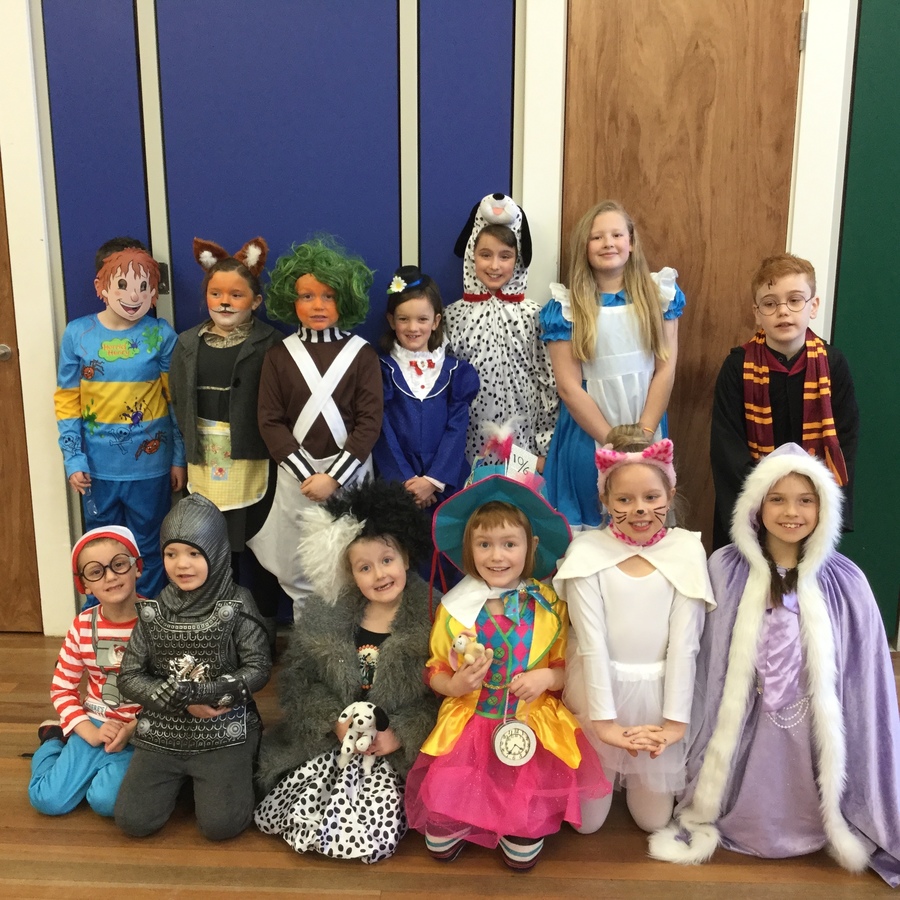 Safety Week
Safety week starts on the week beginning Monday 5th February, this is to coincide with Internet Safety Day on Tuesday 6th February. During the week children will be learning about Online Safety but also many other ways to stay safe such as: Stranger Danger, safety around water, road safety, safety in the home and what to do when you feel unsafe.
Year 1 Sports
Last Thursday, Year 1 went to the sports centre to compete in the Todmorden Schools Year 1 Sporting Competition. Organised by our very own Mr Sutcliffe and supported by Todmorden High School Students, the children moved around in 3 groups taking part in running, jumping, throwing, catching and aiming activities. Our Year 1 came first out of the 7 schools competing. Well done!
National's Got Talent
Well done to all of our very brave and talented children who signed up for National's Got Talent this year and performed in front of the whole school! We had a fantastic afternoon watching the performances which included singing, dancing, playing a musical instrument, joke-telling, magic and boxing!
Christingle
Thank you to all the parents and families who came to our Christingle service.
Christmas Dinner
Children, Staff and Governors enjoyed a yummy Christmas Dinner and get together!
Singing for Dementia
Our choir attended a Christmas Carol Service organised by Dementia Friendly Todmorden. We were fantastic and had a wonderful time.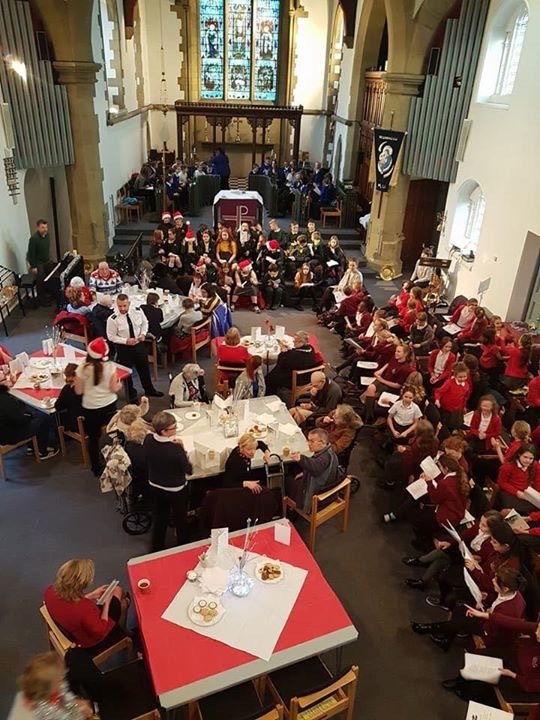 Our Christmas Brassworks Concert
Our brassworks group played for all their families. It was great to see their developing talent.
Our amazing althletics team came 3rd!
Well done to the fabulous 8 children who went to Halifax to compete. You all worked hard together as a team to achieve an amazing 3rd place! What Stars!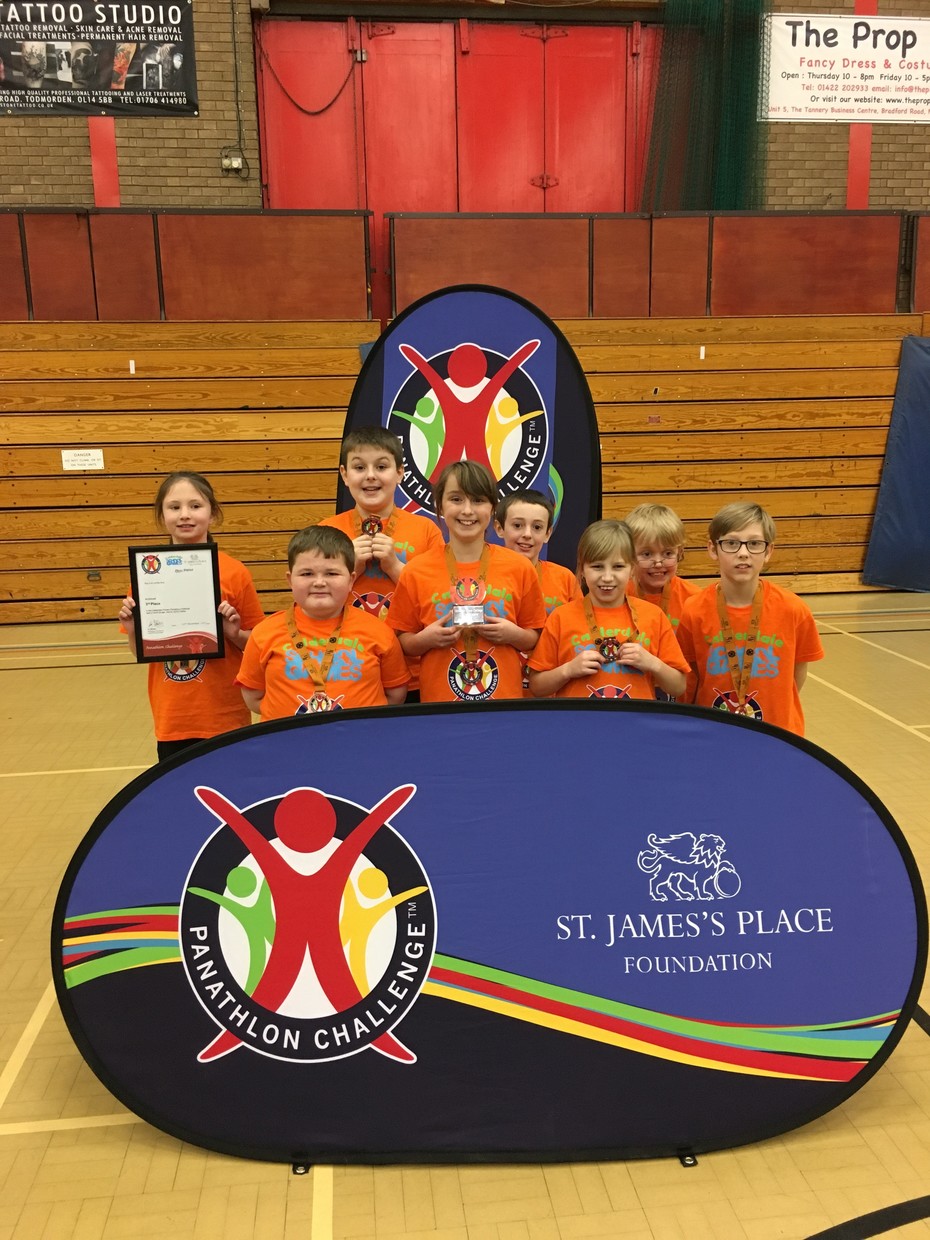 Children in Need
On Friday 17th November, we supported Children in Need through our 'Bedtime Story Day.' Children came to school in their pyjamas, learnt all about Children in Need and participated in bedtime story activities.
Friendship Day
On Monday 13th November, the children enjoyed taking part in a full day of PHSE lessons about friendship and bullying. There was a range of activities including discussions, debates, drama, poetry, song writing and art.
Science Week
w/c 6th November
Here are some photos of the exciting Science investigations that took place in different classes.
McMillan Coffee Morning
We hosted a coffee morning on Friday 27th October, where we raised money for a fantastic cause - McMillan Cancer support. Thank you to all of the children, parents and staff who brought in delicious cakes to sell.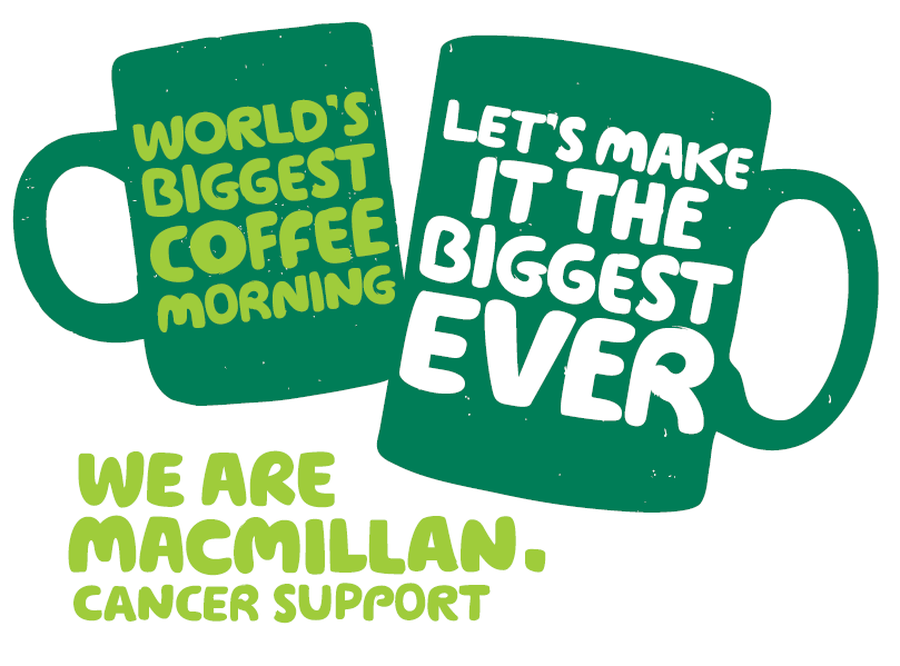 No Pens Day
No Pens Day Wednesday encouraged us to put down our pens and run a day of speaking and
listening activities. Here are some photos from each class.
Jeans for Genes Day
Half a million children across the UK are affected by a life-altering genetic disorder. Jeans for Genes help disorder specific charities to work with families and children on many different projects. We raised money by wearing our jeans on Friday 22nd September.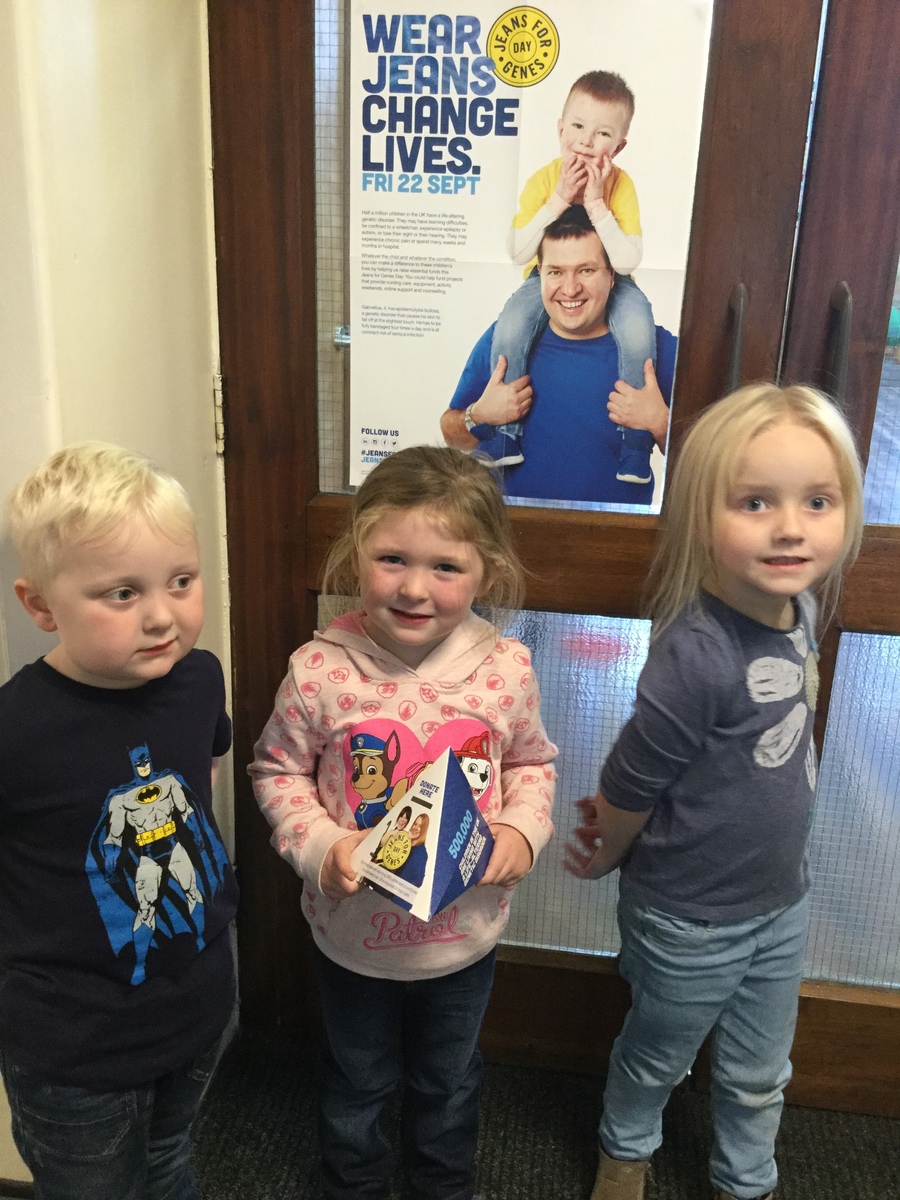 Todmorden Carnival 2017
On Saturday 27th May, we took part in the Todmorden Carnival. Staff, children and parents had a great time dressing up as the Village People and singing and dancing to YMCA.