Reception class had their first trip to the Forgotten Forest. It was amazing! This trip extended out knowledge of our story 'Where's my Teddy', and also helped develop our understanding of the world. They really enjoyed all the different activities. The most popular was the marshmallows! They followed the story around the woodland, made wooden bears, fed the chickens, found tadpoles, and even had hot chocolate. They explored the different activities such as digging, mud kitchen, hammocks, making paints, potion making, and the rope swing.
The children have been growing a pound for the Save the Children charity as part of lent. Reception class were given £30 to grow. The children came up with the idea to host a bake sale and use the £30 to buy the ingredients. As a class we made flapjack, jam buns, crispy cakes and rocky road. Reception class raised £117.76. Amazing teamwork!
The Gruffalo
This term we have been reading The Gruffalo by Julia Donaldson. The children loved this story! We first discovered who it was that sneaked into the classroom. We measured our feet against the footprints and looked at animal footprints to which we decided it was the Gruffalo. We went on a welly walk using a map/trail (like the Gruffalo goes on in the story) to find him. We made pizza and discussed healthy toppings and shapes to make a mouse face.
As an active school we have been talking about ways we can stay healthy. We have spoken about healthy foods and exercise and incorporated this into our school day. For example, in maths we were learning about counting and understanding that the last number which is counted when counting a set of objects is a direct representation of the total in that group. Instead of counting objects we counted star jumps and thought of different number we could jump to. We also have been looking at artists that use fruit and vegetables in their artwork such as Guiseppe Arcimboldo. We recreated his work making fruit faces and then reinvented it using the same fruit as tools to make a painted face.
Tu B Shevat
As part of our Happy Healthy Me topic we created a Tu B Shevat fruit tree. This not only linked with our learning to healthy eating, it linked to our learning about different religions and special times and it was also very yummy!
Honesty
This term our new value is honesty. The children created bees and thought about ways to 'bee honest'. The children spoke about things like telling the truth and examples of when we can do this. This half term we have been looking for ways that we can be honest.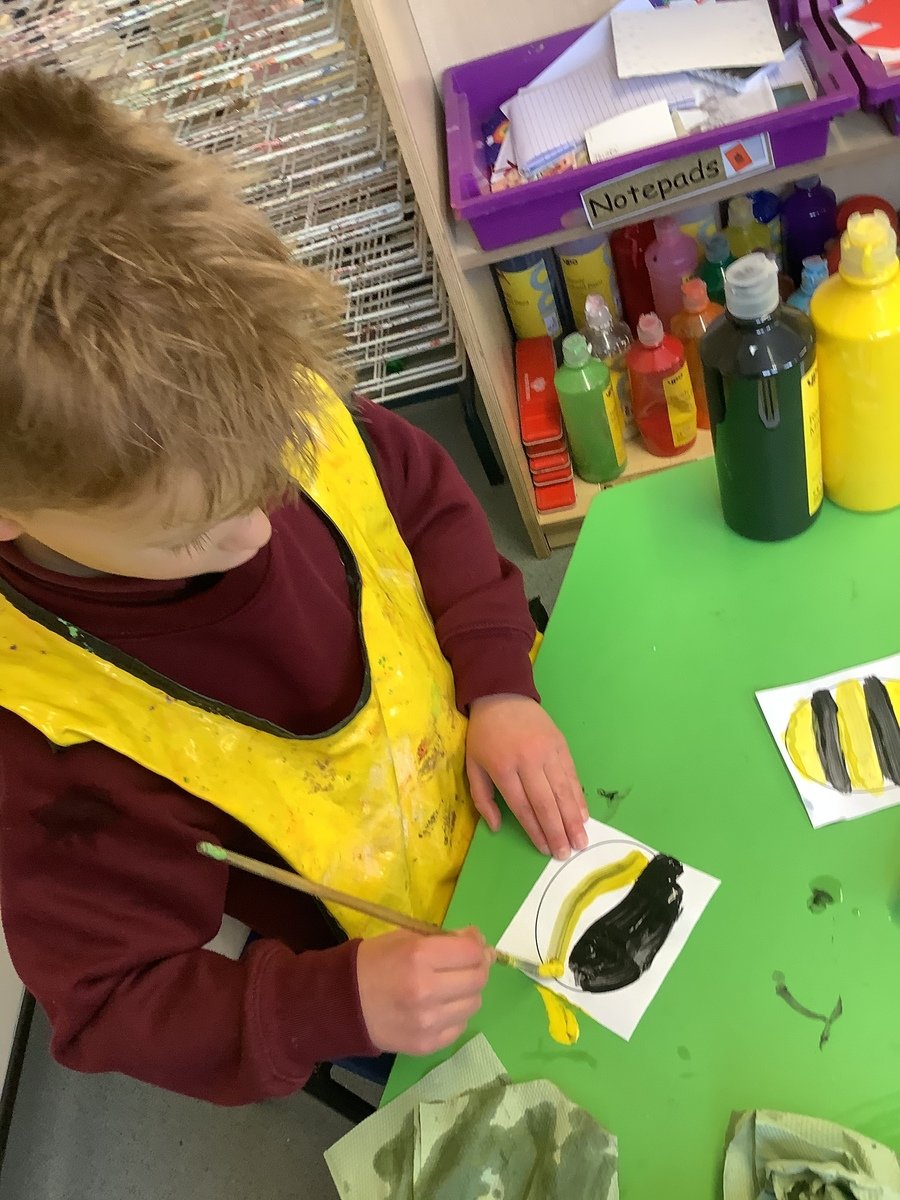 Past and Present
This half term the children have been focusing on past and present. We read the story Peepo to look at the pictures and differences between then and now. One of things the children were interested in was Coal. We brought some into school for the children to look at and describe what they see and feel. We spoke about what the baby (from the book) would see if it was here in the present. We went for a walk to see historical things in our community. We created pictures of our own families. We also looked at baby pictures of the children to see how they have changed between now and then.
The children recently took part in the Mini Olympics with other school across Calderdale. They showed great teamwork and determination whilst joining in with the activities.
Chinese New Year
For Chinese New Year the children made Tiger masks for the Year of the Tiger. We discovered what zodiac year we were born in and learnt all about this celebration. We created our own dragon dance using musical instruments to create the music and learnt about the Chinese culture and country.
School Christian Values
Our value last term was hope. As a class we spoke about hope and what we hope to be when we grow up. We discussed how we hope to be good, kind and happy people but also different occupations. Here we dressed up to show what we want to be when we grow up.
Welly Walks
On our welly walks we have been looking for signs of autumn. We have spoken about weather, temperature and the changes in the trees as well as what we can see that highlights autumn.
Here are some pictures of us making diva lamps for Diwali.
Computing
The children have really enjoyed using bee bots. They have thought about ways to programme bee bots but also using language of 'first, next, after that' to help with this. This has helped them plan simple routes and with sequencing and programming.
Kandinsky
Here the children recreated Kandinsky's Concentric Circles. We spoke about how to paint concentric circles, precision in painting and about what an artist is. The children first made concentric circles with play dough. After this they painted them. Then they wanted to create their own using water colours and pastels.
Eid al- Fitr
This term the children wanted to learn about Eid. We took part in some traditional dance. Some families brought in things they may use at Eid. We learnt about how people celebrate Eid and also watched some traditional celebrations. In our research the children wanted to watch Eid inspired art. Here are the children recreating what we watched by making a picture food the mosque using dried pasta. We also created an Eid 'I wonder table' where the children can ask questions and find out more.